Jorge Marinho*
Sandra Soares**
*PhD in Communication Sciences, BA in International Journalism
**MA in Tourism and Business Development, BA in Communication Sciences
e-mail: marinho.mediaanalysis@gmail.com
Abstract
The role of blogs relative to the dissemination of tourism destinations and tourist decisions is the topic of this article. Addressing this subject matter also involves online marketing. The example of Porto, a Portuguese city, which has earned various international awards in the field of tourism, serves to examine how several public and private organizations value travel / tourism blogs.
Keywords: tourism blogs; travel blogs; tourism communication; online marketing.
Introduction
(This article is written following the final project of the Master's in Tourism and Business Development at the School of Higher Education in Business and Tourism Sciences, entitled Marketing Digital Como Arma para o Desenvolvimento de um Negócio Turístico. Estudo de Caso do Blog HiOporto (Digital Marketing as a Weapon for Developing a Tourism Business. Case Study of the HiOporto Blog) (Soares). This Master's project by Sandra Soares was co-supervised by Jorge Marinho).
Within the scientific sphere, tourism is a topic that increasingly elicits researcher interest (Ashton). Specifically, there are various research works on the importance of communication within the tourism context (Ashton / Dantas / Zaidan). In fact, Information and Communication Technologies (ICTs) have brought about transformations in tourism, as is the case, for instance, with interactivity between companies and their customers (Buhalis, O'Connor). With ICTs, there is increased globalization of tourism, in terms of supply and demand (Buhalis, O'Connor). It is obvious that «The arrival of the Internet has increased the opportunities to boost the accommodation industry. Now, hoteliers are fully aware of the benefits that the Internet can bring to their business.» (The Importance of Web Presence in Hospitality Industry). There are certain goals that can be achieved without undue difficulties: «Through web presence, hotel managers find it fairly easy to employ the fundamental hospitality marketing principles that would cultivate the hotels' online buzz as well as offline reputation.» (The Importance of Web Presence in Hospitality Industry). Through proper use, multiple positive results are attained: «Efficiently managed websites can be the best medium for building client relationships, building hotel brand, retaining customers, and encouraging repeat visits.» (The Importance of Web Presence in Hospitality Industry).
For tourism marketing, the media comprise a strategic value (Zaidan). We point out that «Both tourism practitioners and theoreticians are interested in blogs' potential of being, at the same time, a tool of investigation and a tool of promotion for travel destinations.» (Tudor). According to the United Nations World Tourism Organization (UNWTO) Themis Foundation, «Social media plays an important role in the tourism sector. The dissemination of facts, messages, opinions and pictures through Twitter, Facebook, Blogs, Flickr and other platforms has gained importance when reporting an event.» (UNWTO.Practicum 2012 - English Edition: Tourism Communications and Social Media). This institution adds that «Consumers as well as journalists are using these platforms to retrieve information while companies and destinations are learning to work with them in an adequate and professional manner.»(UNWTO.Practicum 2012 - English Edition: Tourism Communications and Social Media).
In fact, «In recent years, the rise of the 'information highway' internet has significantly reshaped the tourism industry, bringing about fundamental changes in the way tourism related-information is distributed and the way people plan for and consume travel.» (Project: The Role of Travel Review Websites in Tourists' Trip Planning Behaviour Exemplified on TripAdvisor). In May 2015, a Ph.D thesis presents the following conclusion: «Looking at the holiday travel process as a whole, this study concludes that active social media users employ social media to perform six major functions during their holiday travel process: (1) Inspiration; (2) Collaboration; (3) Decision making; (4) Self-expression; (5) Communication; and (6) Entertainment.» (Fotis). We highlight that, within the tourism field, consumers often lend greater credibility to blogs than to traditional marketing communications (Akehurst).
In a publication of the Les Roches International School of Hotel Management, we find the following statements: «As we all know blogs are very important. In fact I can say that writing a blog has become part of our marketing strategy as a brand or hotel establishment» (Puigmarti). Experts acknowledge that «(…) blogging or blog marketing considerably help promote destinations, tourism businesses and travel trade events in unparallel and efficient way.» (Online Viral Marketing in Tourism Industry - Social Media Marketing). Because of this efficiency, blogs attract an increasing amount of travel-related advertising (Huang, Chou, Lin).
The role of blogs in Porto's tourism dissemination
Next, in this article, we will focus on a few blogs whose contents pertain to Porto. But, before that, we will also present the reasons that lead us to highlight the said Portuguese city, as a tourism destination.
For starters, «The growth of tourism has been particularly visible and significant in Porto. For a city and region that has been losing economic drive and lagging behind in most relevant areas over the last few decades, tourism's success can only be regarded as good news» (Alves).
Moreover, with low-cost airlines such as Ryanair drawn to Francisco Sá Carneiro Airport, «this has certainly contributed to this success, but the biggest compliment should go to private initiative in Porto. In a decentralized manner and while taking up their own risks, many investors and entrepreneurs have launched new businesses which simultaneously take advantage of and foster tourism success in the city and region» (Alves).
Porto is a city full of tourism potential: proof of this are the myriad awards garnered in this domain, namely the award for Top European Tourism Destination for 2014, as given by European Consumers Choice (Best Destinations in Europe – Top Places to Travel in 2014), as had already been the case in 2012 (Top 10 Destinations in Europe).
In 2013, Porto was voted Europe's top holiday destination, as part of an international award promoted by Lonely Planet (Top 10 European Travel Destinations for 2013). Also in 2013, Porto placed second in the Travelers Choice awards, as given by TripAdvisor, in the segment of emerging European destinations and experiencing the biggest growth (Cidade do Porto Eleita Como o "Melhor Destino Europeu 2014").
In 2015, «USA Today» selected the city of Porto as the Best Under-the-Radar Romantic Destination. The U.S. website highlights some of Porto's strong suits: a city «known for its wine, medieval architecture and Old World charm». (Best Under-the-Radar Romantic Destination).
Also in 2015, Porto was nominated for three categories of the "Tourism Oscars" (the World Travel Awards): Best European Destination; Europe's Best City Break; and Best Tourist Attraction, with the Ribeira nominated in the latter item (Europe Nominees 2015).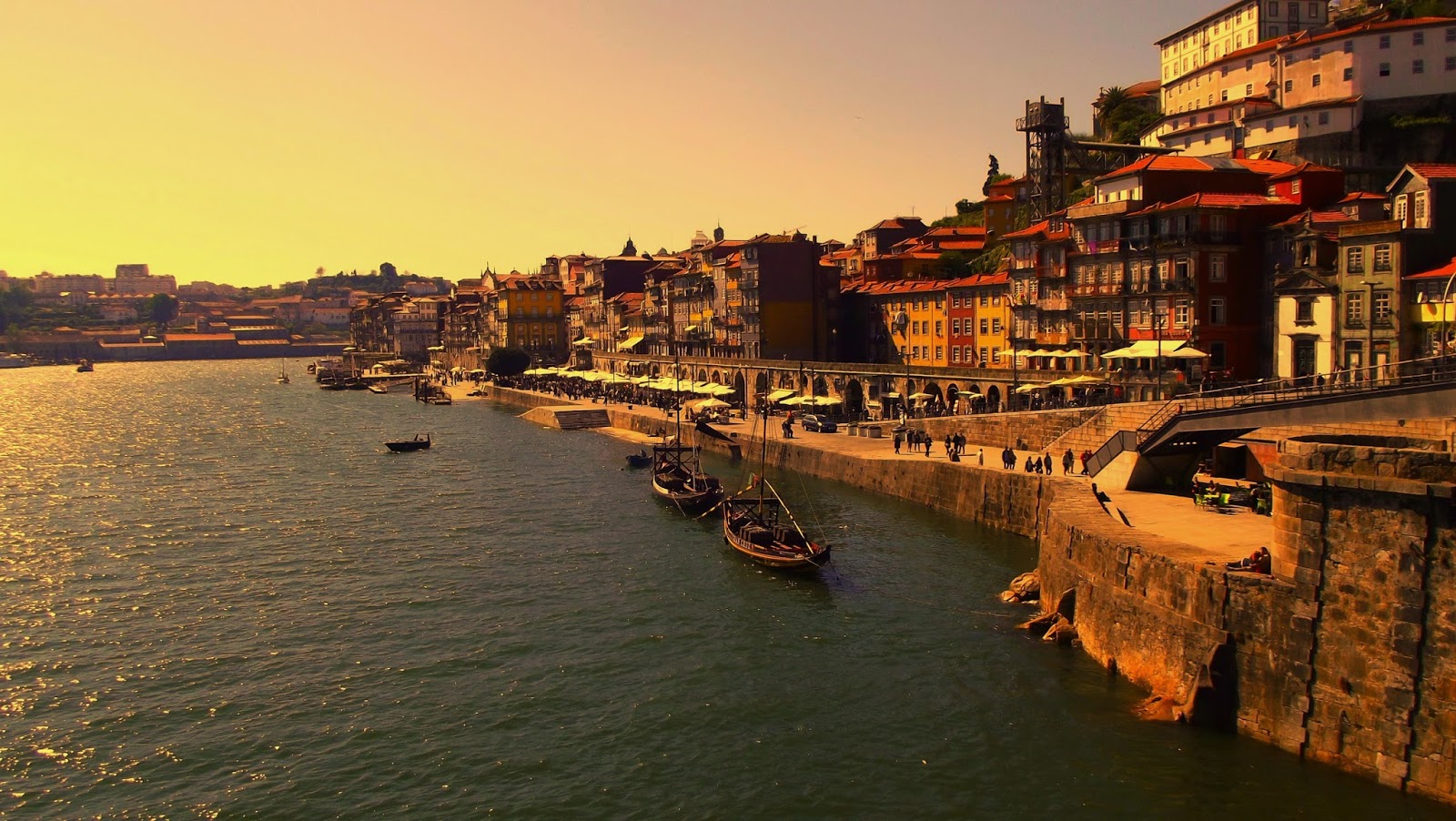 1. Douro River and Ribeira, Porto's historic quarter
(In https://portugalseasons.com/wp-content/uploads/2015/01/356066-svetik.jpg )
In Trivago's ranking of 100 cities with the world's best hospitality reputation, in 2014, Porto is currently the ninth-ranked European destination, ahead of cities such as Lisbon, Prague, Berlin and Madrid (Porto e Lisboa Entre as 25 Cidades Com Melhor Reputação Hoteleira do Mundo).
Among other more specific honors garnered in 2015, Porto has one of the world's most spectacular pools: the outdoor pool at The Yeatman hotel, in Vila Nova de Gaia, as chosen by «The Telegraph» (The Most Amazing Pools in the World).
Also in 2015, the century-old Livraria Lello, in Porto, was considered by «The Guardian» to be the third most beautiful bookshop in the world (Best Bookshops: Top Shelves), while the Jardins do Palácio de Cristal (Crystal Palace Gardens), in Porto, ranked among the top 15 urban green spaces in Europe, according to European Best Destinations (Best City Parks in Europe). The Douro River, which flows through Porto, was, in 2015, also considered to be the world's seventh most beautiful river by «The Telegraph» (The 14 Most Beautiful Rivers in the World).
The award-winning Francisco Sá Carneiro Airport was, in 2014, considered Europe's third-best airport by the Airports Council International (Airport Service Quality (ASQ)). Furthermore, the aforementioned infrastructure was ranked in the top three from 2006 to 2011, as it was voted by passengers as the top European airport in 2007 (Portugal Premiado em Todo o Mundo).
After talking about the current growing relevance of the city of Porto in the tourism sector, it is important to understand the importance of tourism / travel blogs linked to the city.
The relevance of the said blogs for developing the sector in Porto is visible on the city's institutional website regarding tourism: the Visit Porto.travel portal, which is highlighted in its own section entitled Blogs@Porto (Blogs). In this section, we can see that, of all the blogs shown therein, there are a few domestic blogs devoted solely to promoting Porto, such as the following:
- Porto Envolto (http://portoenvolto.com/), whose author, Vera Dantas, states that she intends to share with her blog audience the vibrancy of this city and of the country's Northern region surrounding it, with heartfelt words and images(Sobre mim);
- Ruas do Porto/ Streets of Porto (http://www.pbase.com/jandrade/ruas_do_porto), a gallery with photos of picturesque sites in Porto, created by José Paulo Andrade;
- OPortoCool (https://oportocool.wordpress.com/), which talks about new venues that open in the city;
- Viver o Porto (http://www.viveroporto.com/), one of the most renowned blogs on the city, created by Paula Calheiros;
- O Porto... Encanta (http://www.oportoencanta.com/) was created by Brazilian-born Rita Branco, who currently resides in Porto. This blogger points out that her work was geared toward making Porto known to Brazilian tourists, since she noticed that her friends and relatives would rule out Porto from their European destinations (Soares);
- HiOporto (http://www.hioporto.com/) is a blog that emerged from an academic work written by eight students in the Communication Sciences BA Study Program at the University of Porto, supervised by Jorge Marinho from February to June 2013 (Soares). This project comprised the creation of an online platform for promoting tourism in the city of Porto (Soares);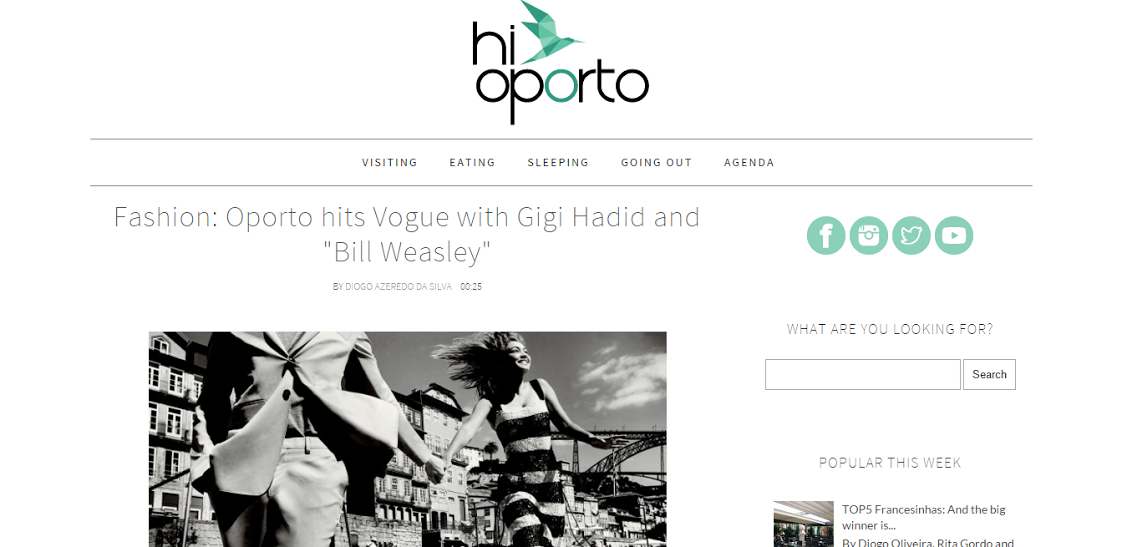 2. HiOporto - a blog distinguished by Porto City Council in 2013
(In http://www.hioporto.com/2015/11/fashion-oporto-hits-vogue-with-gigi.html )
- Low Cost Porto Experience (http://lowcostportoexperience.blogspot.pt/) was created by students at the University of Porto, as part of the same academic project that includes HiOporto and also supervised by Jorge Marinho. While Low Cost Porto Experience comprises contents in five languages, it is currently inactive.
The other blogs on the list are almost exclusively foreign bloggers who have written posts on the city of Porto (Blogs). This interest in Porto, as expressed by international bloggers, is very important indeed for promoting the city, as this allows disseminating this destination in a more comprehensive way while more effectively arriving at different target audiences.
During the travel-related decision-making process, and to dispel any doubts, tourists collect online information because of their greater reliance on other tourists' opinions than on official marketing advice. (Ráthonyi).
From the list of blogs on Porto's institutional tourism-related website (Blogs), we feature the following suggestive titles from a few posts:
- «9 Reasons Why You Should Pack Your Stuffs and Go to Porto. Now!» (As'Ad);
- «Porto, Portugal, Turns on the Charm, Pours Forth History» (Owen);
- «Oh So Beautiful Porto» (Dizon);
- «What Really Happened in Portugal and Why Porto is One of My Favorite Cities» (Anna).
Favorable opinions on the city are important, as «blogs are becoming a very important information source for international travellers for getting travel advice and suggestions» (Ráthonyi). Moreover, «when reading and sharing one's travel experience through weblogs, this also creates the willingness to travel and visit the same destination»(Ráthonyi).
Among the conclusions derived from the various surveys conducted in a study, we highlight a few reasons that lead people to read travel blogs: «'get ideas about destinations that I might want to visit in the future', 'get information about destinations where I am already planning to go' and 'spend time reading interesting stories about different places'.» (Davydova). It becomes obvious that «travel blogs can act both as simply a source of information about the destination that interests a person as well as a motivator to choose a certain destination» (Davydova). This can also apply to Porto as a tourism destination. We should add that «tourism marketers need to understand blogs as a new technological phenomenon with implications for marketing and promotion of a destination. With the rapid development of Internet technology, it is vital for tourism marketers and the tourism industry in general to understand travel blogs and their implications for destination marketing» (Bing, MacLaurin, Crotts).
Following the growing acknowledgment of the relevance of the kind of blogs under examination, the Porto and Northern Portugal Tourism Association was involved in organizing the Fourth Annual Tourism Bloggers United Conference, in 2012 (Monteiro). As part of this event, with promotional goals in mind, some 200 bloggers from all over the world had the chance to stroll throughout Porto (Saleiro).
In 2014, during the Madrid International Tourism Trade Show (FITUR), Nelson Carvalheiro, a Portuguese national, was declared Travel Blogger 2014 for Europe (Santos). The following year, Nelson Carvalheiro was also honored by a Portuguese organization: «I received an invitation from VisitPortugal to become the official blogger for VisitPortugal at FITUR. It makes every sense for me and I am grateful for my home country's tourism board to recognize my achievements as a travel blogger and to ask me to become a part of their communication and marketing strategy.» (Nelson). According to Nelson Carvalheiro, «It wasn´t until recent times that bloggers, especially travel and food, were recognized to significantly impact the decisions of travellers when these research online for information about their next holidays. (…). Now it is rare to find any tourism stakeholder that does not work with this so-called "new breed of first-person speech publishers".» (Nelson).
Conclusion
The Internet, as a communication platform, has given rise to transformations in the sphere of tourism. In this context, we have online marketing. Researchers and professionals agree that travel / tourism blogs influence tourists' decisions. Consequently, in Portugal and worldwide, the tourism sector has been increasingly valuing the role of the said blogs in disseminating certain tourism destinations. Among these, Porto occupies a somewhat notable position. In the last few years, this Portuguese city has earned several international tourism-related awards. In this regard, Porto City Council acknowledges the contribution from blogs. Other Portuguese organizations, such as VisitPortugal and the Porto and Northern Portugal Tourism Association, have also been cooperating with bloggers.
References
Airport Service Quality (ASQ). Retrieved 17.11.2015 from http://www.aci.aero/Airport-Service-Quality/ASQ-Awards/Current-Winners/Best-Airport-By-Region/Europe
Akehurst, Gary. User Generated Content: The Use of Blogs for Tourism Organisations and Tourism Consumers.Retrieved 27.10.2015 from http://link.springer.com/article/10.1007/s11628-008-0054-2/fulltext.html
Alves, André Azevedo. O Sucesso do Turismo no Porto, a Iniciativa Privada e os Artistas. Retrieved 21.11.2015 from http://observador.pt/opiniao/o-sucesso-turismo-no-porto-iniciativa-privada-e-os-artistas/
Anna. What Really Happened in Portugal and Why Porto is One of My Favorite Cities. Retrieved 30.11.2015 from http://annzventures.com/porto/
As'Ad, Nabila. 9 Reasons Why You Should Pack Your Stuffs and Go to Porto. Now! Retrieved 30.11.2015 from https://bhellabhello.wordpress.com/2014/07/06/9-reasons-why-you-should-pack-your-stuffs-and-go-to-porto-now/
Ashton, Mary Sandra Guerra. Comunicação e Turismo: Possibilidades de Conhecimento. Retrieved 15.10.2015 from http://www.ucs.br/etc/revistas/index.php/conexao/article/viewFile/194/185
Best Bookshops: Top Shelves. Retrieved 18.11.2015 from http://www.theguardian.com/books/2008/jan/11/bestukbookshops
Best City Parks in Europe. Retrieved 21.11.2015 from http://www.europeanbestdestinations.com/top/best-city-parks-in-europe/
Best Destinations in Europe – Top Places to travel in 2014. Retrieved 21.11.2015 from http://www.europeanbestdestinations.com/top/europe-best-destinations-2014/
Best Under-the-Radar Romantic Destination. Retrieved 19.11.2015 from http://www.10best.com/awards/travel/best-under-the-radar-romantic-destination/
Blogs. Retrieved 17.11.2015 from http://www.visitporto.travel/Visitar/Paginas/Comunidade/Blogs.aspx?SubAreaType=3&SubArea=12
Buhalis, Dimitrios, O'Connor, Peter. Information Communication Technology Revolutionizing Tourism. Retrieved 19.10.2015 from http://epubs.surrey.ac.uk/1130/1/fulltext.pdf
Cidade do Porto Eleita Como o "Melhor Destino Europeu 2014". Retrieved 20.11.2015 from http://www.jn.pt/paginainicial/pais/concelho.aspx?Distrito=Porto&Concelho=Porto&Option=Interior&content_id=3684348
Dantas, Monique de Andrade. Turismo e Comunicação – A Dimensão do Jornalismo no Turismo. Retrieved 15.10.2015 from http://www.ebah.com.br/content/ABAAAfq4sAF/turismo-comunicacao-a-dimensao-jornalismo-no-turismo
Davydova, Ekaterina. The role of Travel Blogs in the Process of Travel Planning. Retrieved 22.11.2015 from https://www.theseus.fi/bitstream/handle/10024/45150/The%20role%20of%20Travel%20Blogs%20in%20the%20process%20of%20Travel%20Planning.pdf?sequence=1
Dizon, Luna. Oh So Beautiful Porto. Retrieved 30.11.2015 from https://www.carjet.com/blog/oh-so-beautiful-porto
Europe Nominees 2015. Retrieved 19.11.2015 from http://www.worldtravelawards.com/nominees/2015/europe
Fotis, John N. The Use of Social Media and Its Impacts on Consumer Behaviour: The Context of Holiday Travel (PhD Thesis). Retrieved 27.10.2015 from http://eprints.bournemouth.ac.uk/22506/1/JOHN%20FOTIS%20-%20PhD.pdf
Huang, Ching Yuan, Chou, Chia Jung, Lin, Pei Ching. Involvement Theory in Constructing Bloggers' Intention to Purchase Travel Products. Retrieved 26.10.2015 from http://www.journals.elsevier.com/tourism-management/most-cited-articles/
Monteiro, Tânia, Bloggers Viajantes Partem à Descoberta do Porto. Retrieved 1.12.2015 from http://p3.publico.pt/vicios/em-transito/4492/bloggers-viajantes-partem-descoberta-do-porto
Nelson. VisitPortugal Official Blogger at FITUR 2015. Retrieved 1.12.2015 from http://nelsoncarvalheiro.com/visitportugal-official-blogger-fitur-2015/
Online Viral Marketing in Tourism Industry - Social Media Marketing. Retrieved 23.10.2015 from http://www.tourism-review.com/social-media-marketing-in-tourism-industry-page659
Owen, Dean R. Porto, Portugal, Turns on the Charm, Pours Forth History. Retrieved 30.11.2015 from http://www.latimes.com/travel/la-tr-d-portugal-main-20150628-story.html#page=1
Pan, Bing, MacLaurin, Tanya, Crotts, John. Travel Blogs and the Implications for Destination Marketing. Retrieved 22.11.2015 from http://www.panb.people.cofc.edu/pan/JTR-TravelBlogs-Pan_etal.pdf
Porto e Lisboa Entre as 25 Cidades com Melhor Reputação Hoteleira do Mundo. Retrieved 21.11.2015 from http://www.porto.pt/assets/misc/img/noticias/ATUALIDADE/RankingReputacao2015.pdf
Portugal Premiado em Todo o Mundo. Retrieved 21.11.2015 from http://observador.pt/2014/08/31/portugal-premiado-em-todo-o-mundo/
Project: The Role of Travel Review Websites in Tourists' Trip Planning Behaviour Exemplified on TripAdvisor. Retrieved 27.10.2015 from http://blogs.bournemouth.ac.uk/etourismlab/research-projects/current-projects/project-the-role-of-travel-review-websites-in-tourists-trip-planning-behaviour-exemplified-on-tripadvisor/
Puigmarti, Susana. The Importance of Blogs in the Tourism Industry. Rerieved 23.10.2015 from http://blog.lesroches.edu/alumni/the-importance-of-blogs-in-the-tourism-industry/
Ráthonyi, Gergely. Influence of Social Media on Tourism – Especially Among Students of the University of Debrecen. Retrieved 22.11.2015 from http://ageconsearch.umn.edu/bitstream/152233/2/18_Rathonyi.pdf
Saleiro, Ana. Bloggers Internacionais de Viagens Reunidos no Porto. Retrieved 1.12.2015 from http://p3.publico.pt/vicios/em-transito/4473/bloggers-internacionais-de-viagens-reunidos-no-porto
Santos, Luís J. Nelson Carvalheiro É o Blogger de Viagens Europeu do Ano. Retrieved 1.12.2015 from http://p3.publico.pt/vicios/em-transito/10676/nelson-carvalheiro-e-o-blogger-de-viagens-europeu-do-ano
Soares, Sandra. Marketing Digital como Arma para o Desenvolvimento de um Negócio Turístico – Estudo de Caso do blog HiOporto. ISCET. Retrieved 22.11.2015 from https://docs.google.com/viewer?a=v&pid=sites&srcid=ZGVmYXVsdGRvbWFpbnxwb3J0ZWZvbGlvc2FuZHJhc29hcmVzfGd4OjMxNDMyZDNiMjJhNjAyYjg
Sobre Mim. Retrieved 21.11.2015 from http://portoenvolto.com/sobre-mim/
The Importance of Web Presence in Hospitality Industry. Retrieved 26.10.2015 from http://www.etourism.com.au/blog/the-importance-of-web-presence-in-hospitality-industry/155
The Most Amazing Pools in the World. Retrieved 20.11.2015 from http://www.telegraph.co.uk/sponsored/lifestyle/mens-lifestyle-guide/11336631/most-amazing-pools-in-the-world.html
The 14 Most Beautiful Rivers in the World. Retrieved 21.11.2015 from http://www.telegraph.co.uk/travel/cruises/riversandcanals/11091900/The-14-most-beautiful-rivers-in-the-world.html?frame=3036428
Top 10 Destinations in Europe. Retrieved 18.11.2015 from http://www.europeanconsumerschoice.org/travel/european-best-destination-2012/
Top 10 European Travel Destinations for 2013. Retrieved 16.11.2015 from http://www.lonelyplanet.com/europe/travel-tips-and-articles/77757
Tudor, Raluca. The Image of Tourist Destinations Represented in Travel Blog Photography. Case Study: Romania's Image Reflected in French Bloggers Photos. Retrieved 26.10.2015 from http://www.revistadeturism.ro/rdt/article/viewFile/10/6
UNWTO.Practicum 2012 - English Edition: Tourism Communications and Social Media. Retrieved 27.10.2015 from http://themis.unwto.org/event/unwtopracticum-2012-english-edition-tourism-communications-and-social-media
Zaidan, Tiago Eloy. Comunicação e Turismo – Estudo de Caso Sobre os Folhetos de Promoção Turística de Porto Alegre – RS. Retrieved 15.10.2015 from http://www.unisantos.br/pos/revistapatrimonio/images/artigos/Artigo4_v6_n6_abr_mai_jun2009_Patrimonio_UniSantos.pdf
Figures
1. Retrieved 8.12.2105 from https://portugalseasons.com/wp-content/uploads/2015/01/356066-svetik.jpg
2. Retrieved 8.12.2015 from http://www.hioporto.com/2015/11/fashion-oporto-hits-vogue-with-gigi.html

Published by Marinho Media Analysis / December 21, 2015
http://www.marinho-mediaanalysis.org/2015/12/the-importance-of-blogs-for.html

Another version of this article was also published in Alert! Magazine – Marketing Research Association / United States of America / March 15, 2016
http://www.marketingresearch.org/article/importance-blogs-evangelizing-tourism-destinations