Lolita Stašāne
MA, BA in Communication Sciences, Lecturer at the Faculty of Social Sciences, University of Latvia, Retail Communication Area Manager at Swedbank in Latvia.
Marita Zitmane
PhD, MA, BA in Communication Sciences, Researcher at the Faculty of Social Sciences, University of Latvia.
Sintija Kalnina
Master's Degree in Business / Corporate Communications, BSc in Public Relations, Advertising and Applied Communication, Internal Communication Specialist at Swedbank in Latvia
e-mail: lolita.stasane@lu.lv
Abstract
It is a worldwide practice to present and to receive gifts during Christmas. Despite a lot of criticism, material gifts can be a source of joy and a way to express love and care. It is a symbolic form of communication, while the exchanging of gifts serves as a social exchange act of establishing, developing and maintaining relationships. How do students celebrate Christmas in Latvia? What kind of gifts do the media and advertisements suggest as the most appropriate ones?
Keywords: Christmas, consumption, gifts, media, students.
Introduction
Christmas celebration is a tradition in every family in the Christian world. Everyone has their own opinion how to prepare for this event – some people prefer a peaceful holiday together with family, others visit church or a shopping center because it is hard to imagine Christmas without gifts. It is important to observe not just people's views and attitudes, but also to analyze messages in media that may promote or slow down students' holiday consumption habits. The methodology of surveying originally done by the authors includes a questionnaire which was sent by email to University of Latvia students and published on Lolita Stasane's and Maritas Zitmane's personal social media accounts on Facebook and Twitter in December 2015, asking that it be filled out and disseminated, along with media publication content analysis from the most popular internet portals in Latvia during December 2013 and 2015.
Consumer culture, consumption and gift-giving
The term 'culture' means the ideas and activities according to which we construct our world. With the term 'consumption,' Grant McCracken broadens the conventional definition to include the processes by which consumer goods and services are created, bought, and used (McCracken 1998, p.3).
Consumption is never just one experience. Consumer actions directed toward consumption objects have many facets: they are lived experiences that enlighten, bore, entertain, or raise our ire, but they are also means that we use to draw ourselves closer to valued objects and resources that we use to engage others – to impress, to befriend, or simply to play (Holt 1995, p.15).
Consumer goods are an important medium of our culture. They are a place where we keep our private and public meanings. Cars and clothing, for instance, come loaded with meanings, meanings we use to define ourselves. We are constantly drawing meanings out of our possessions and using them to construct our domestic and public worlds. Consumer goods are one of our most important templates for the self (McCracken 2005, p.3).
One can ask: why do goods play this role in our lives? In our (Western) society, individuals are free to construct the self. We no longer presume to tell people who they must be. Consumer goods are not shackles but instruments of the self (McCracken 2005, pp.3-4).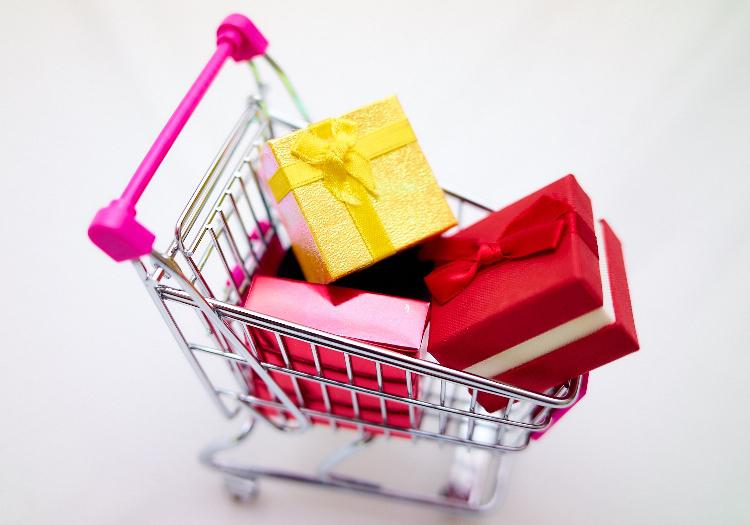 1. Do Christmas and shopping go hand in hand?
The ritual is used to transfer meaning from goods to individuals. It serves this purpose in four ways. They are exchange, possession, grooming, and divestment rituals. Exchange rituals, especially those of Christmas and birthdays; see the choices, purchase and presentation of consumer goods by one party and their receipt by another. This movement of goods is potentially also a movement of meaningful properties (McCracken 1998, pp.84-87).
The ritual of gift exchange establishes a potent means of interpersonal influence. It allows individuals to insinuate certain symbolic properties into the lives of a gift recipient (McCracken 1998, p.84). Roberta Sassatelli notes that gift-giving is an important social phenomenon in contemporary societies. Commodities are explicitly reframed as 'gifts' or 'presents' in specific, spatially and temporally bounded occasions, from Christmas to dinner parties (Sassatelli 2007, p.145).
Christmas involves renewing ties with extended family and engaging in traditions such as feasting, caroling and decorating a Christmas tree. Increasingly, however, the materialistic elements of the Christmas holiday have become predominant, and Santa Claus – a 'secular version of Christ,' whose 'realm is that of material abundance,' has become the central figure of holidays (Belk 1993, p.83).
In Western cultures, it is believed that Christmas is the peak of consumerism which is achieved by merging holiday symbols, spiritual values and commercial activities. Christmas is a unique phenomenon of gift-giving in which almost everyone is involved – children, adults and, of course, Santa Claus, who usually creates even greater pressure on consumers (Clarke 2006, pp.283-291).
Regardless of the attitudes towards gift-giving, it is an essential feature in every culture. By exchanging gifts, we not only express personal feelings, but also participate in a historical and socially important ritual. As a result of this ritual, an ordinary thing becomes a gift with symbolic meaning. This act can be divided into three stages: searching for the gift and purchasing / making it; presenting the gift to its receiver; and, finally, observing the impact this gift has made on the relationship between the giver and receiver (Walsh 2001, p.104).
However, gifts not only can demonstrate love and appreciation, but also serve as a way of assuring someone's good taste or material opportunities – a good gift should comply with the wishes and expectations of its receiver (Pleck 2000, p.53).
Communication of celebration and gifts in Internet publications
In this study, we looked for Christmas gift-giving ritual discourses in the most popular Latvian internet news portals "Delfi.lv" and "Tvnet.lv" publications during two similar periods - December 2013 and 2015. (Atskats uz Latvijas Internetu 2015. Gadā 3.3.2016). Discourse analysis was made according to a three-dimensional model of Norman Fairclough (2010, p. 93).
The results of quantitative content analysis show that the most popular topic (picture 2) during Christmas is various gift suggestions – what are the most appropriate gifts for family members, colleagues or even undesirable persons. These recommendations let readers' thoughts affect their decisions and invite them to buy the recommended toy or electronic device, or to prepare gifts themselves.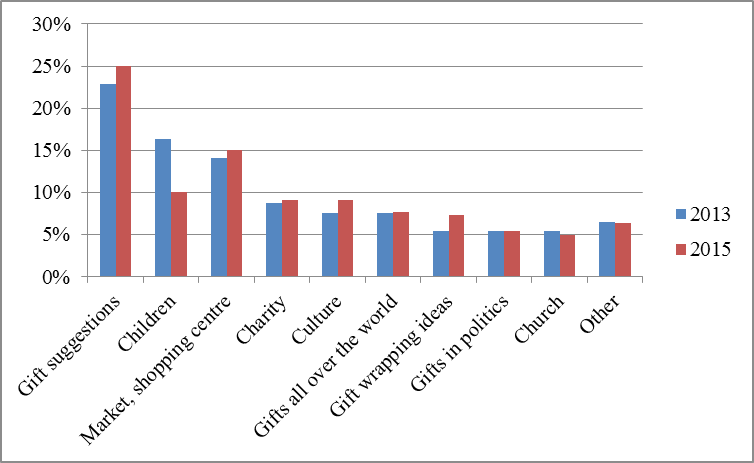 2. Topics covered in publications (%)
Overall, there were 434 Christmas-related articles published in both portals in December 2013, while in 2015 the number had increased to 501. In general, the publications related to Christmas were accessed from different angles - offering ideas for gifts, decorations and festive table, talking about the weather during Christmas time and informing about different activities and events expected or occurring at Christmas.
When comparing the total number of publications found by keyword "gift," the number gradually increases when approaching Christmas. Relatively more publications regarding gifts appear in mid-December – the period when many people are more active in searching and buying them.
Another interesting tendency: the number of articles published on weekends is increasing (particularly in 2015), talking about a variety of holiday fairs and other events that could help you find the most appropriate gifts for relatives. However, topics related to gift-buying highlight exactly on December 24 – Christmas Eve – when, perhaps, some people are still eagerly trying to provide the missing gifts and especially thinking about creating and enhancing the Christmas atmosphere.
Relatively many publications provide recommendations for gift selection – for children, husband, co-workers, etc. (Iekārotākās Svētku Dāvanas Sogad — Tehnoloģiju Ierīces 13.12.2013 / Ko Ziemassvētkos Dāvināt Klientiem un Sadarbības Partneriem? 14.1.2016). Among these publications, there are several translations from foreign internetsites («Louis Vuitton» Gudrā Zoss Izvēlas Dāvanas 11.12.2013), recommendations from celebrities as well as advertorials.
During 2015, there are more articles that suggest readers make gifts by themselves, with particular emphasis on the variety of delicious cooking. The next most popular subject regarding gift-giving are children (as the most common gift recipients, as well as in the context of charity), followed by information on fairs and shops. Compared to "Delfi.lv," in both years (2013 and 2015), portal "Tvnet.lv" is more focused on charity-related topics – in many publications, there are invitations to donate, to think about the elderly, etc. Some publications also cover cultural topics: people are invited to 'present emotions' by attending a concert or another cultural event (Decembra Pasākumi un Notikumi Brīvdabas Muzejā 7.12.2013 / Noklausies 'Es Skaistu Rozīt' Zinu' Oriģinālaranžējumu 14.1.2016).
Both portals also included stories from other parts of the world – the most popular gifts elsewhere, surprising events, celebrity news. Media also provides creative gift packaging – wrapping which is consistent with the idea of people making gifts themselves. Although the main idea of Christmas is associated with religion, church-related topics are only mentioned in a small number of publications – information is usually provided about the concert in the church or pastor's mediations.
Within the publications, there are often "last-minute gift" offers and advertorials (Kā Nenošaut Greizi ar Dāvanām Jeb Pēdējā Brīža Spikeris 24.12.2015 / Pētījums: Grūtniecības Testi un Vilnas Zeķes jeb ko Labāk Nedāvināt Svētkos). These publications are often accompanied by advertising banners which lead to collective shopping portals or corporate web sites. These ads most often offered children's toys – dollhouses, games, etc. However, it's important to note that, when comparing publications from both years, in 2015 readers are more frequently invited to make presents themselves. So, although these gifts are tangible (material), increasing attention is being paid to gifts "coming from the heart" and the time invested in their preparation, not so much the magnitude of a gift's monetary value.
Articles repeatedly referred to such word combinations as "the joy of gift receiving," "make someone happy," "we can share joy," etc., especially in publications regarding charity-related events at an orphanage (Pulkstene 24.12.2013). The joy is most often communicated as what can be obtained by presenting or receiving gifts. In order to capture the audience, emotion of joy is used both in advertorial and news, calling on us to do something good (help, donate, visit) during the holidays for children without parents and the elderly who do not have relatives.
Articles describe joy as the motivation of gift-giving – it also encourages both delight and elevation above the everyday routine and creates a desire to receive gifts. So, the strong emotion of joy is important for both family awards ritual and beyond, simply because of exchanging gifts. From a business perspective, motivating the audience to consume the products is essential – both actual goods and media product – information.
In conclusion, although gifts are a source of joy and everyone expects them, the indispensability of gifts is associated with the sense of stress, feeling of obligation and fatigue – publications usually refer to such variations as "shopping fever" and "gift fuss," directing us to rethink the meaning of Christmas holidays and desired mood during this time (Cik Kaloriju Sadedzinām, Iepērkot Svētku Dāvanas?).
Students' survey
American researchers Kennon M. Sheldon and Tim Kasser studied many aspects of Christmas celebrations, exploring how different types of experiences and activities affect people's satisfaction, stress and emotional state during the Christmas season in the United States of America (Kasser, Sheldon 2002, pp. 313-329). Based on Americanresearchers' experience and pilot interviews, seven main types of activities (and hence experiences) that occur during the holidays have been set (Hirschman, LaBarbera 1989, pp. 136–147):
1) spending time with family;
2) participating in religious activities;
3) maintaining traditions (e.g., decorating a Christmas tree);
4) spending money on others via the purchase of gifts;
5) receiving gifts from others;
6) helping others (e.g., Salvation Army bell-ringers);
7) enjoying the sensual aspects of the holiday (e.g., good food) (Kasser, Sheldon 2002, pp. 313-329).
Inspired by the academics mentioned above, the authors of this article conducted the original survey, which took place during the period from 20 December 2015 to 7 January 2016, with the aim of finding out whether and how the consumption of gift rituals affects students experiencing Christmas in Latvia. The questionnaire was sent by email to students of the Faculty of Social Sciences at the University of Latvia and link to the same questionnaire posted on researchers' (L. Stasane, M. Zitmane) personal social media profiles on Facebook and Twitter. In all, the survey involved 263 respondents, 120 of whom were students (not all, because the link to the questionnaire snowballed on social media, later data were separated and the answers of only those who marked their profession/occupation as students were analyzed), and most respondents were female (84%), with male respondents at 16%. Most students (71%) celebrate Christian Christmas in December; just 3% answered that they don't celebrate at all.
For students, like many others, the time before Christmas is controversial – both happy and stressful (many mentioned coming mid-term exams during January).
As the most important activity of Christmas celebration and experience, respondents have noted 'spending time with the family,' followed by 'maintenance of traditions (Christmas tree decoration, gift-wrapping, etc.)' and 'holiday enjoyment (tasty food, drinks etc.).' Activities most directly related to consumption – 'gift purchase' and 'gift receipt' are evaluated as the fourth and sixth most important activities. In turn, the greatest happiness was created by the opportunity to be with the family and time off.
The most popular place to purchase gifts for students are supermarkets – 78% (by comparison – the total respondents choosing this answer only 30%), while 40% of students made gifts themselves (only 16% of all respondents do the same). Overall, students spent less money on gifts than other respondents (average total of 10 to 100 euros).
Almost half of all students admit that they would like to receive material things as gifts, mentioning also money and trips. They usually mention particular brands – if a car, then BMW X6, if a phone, then iPhone 6, if cinema, then tickets to "Star Wars," etc.
Students see gifts as carriers of different meanings. 68% of students (and 46% of all respondents) agreed with the statement 'I buy gifts revealing my personality.' They also more likely admit they buy gifts to impress others. Students perceive consumer goods as sets of meaning and gift-giving rituals as possibility to transfer meanings and communication.
Survey data show that from students' point of view, consumption is an integral part of the Christmas experience. They do not express negative attitude towards the purchase of gifts; on the contrary, holiday enjoyment – eating and drinking (only possible thanks to consumption) is one of the most important parts of the Christmas celebration. Also, gift-purchasing motives point to the importance of consumption – we acquire consumer goods because of significance.
Conclusion
Consumption and Christmas celebration are tightly entwined in a number of meaningful ways – both among the general public and students. Consumerism undoubtedly is promoted and strengthened by media discourses. The media and all the marketing activities this environment includes often tell people what is the best and most appropriate for their family members and friends (though, of course, we know our relatives better than any marketing experts). However, also according to theoretical perspectives, it is a common practice all around the world and it is still unknown whether or not this aspect of ritual will disappear over time. Material gifts can be a source of joy and a way to express love, which is often highlighted in media publications and also students' valuations.
At the same time, Christmas rituals are both consumerism and socially unifying and religious holidays. And every participant of this Christmas ritual grants its own meaning – individual and unique.
References
Atskats uz Latvijas Internetu 2015. Gadā. Retrieved 3.3.2016 from http://www.gemius.lv/interneta-mediji-zinas/atskats-uz-latvijas-internetu-2015-gada.html

Belk, R. (1993). Materialism and the Making of the Modern American Christmas. In D. Miller (ed.), Unwrapping Christmas. Oxford: Clarendon Press.

Cik Kaloriju Sadedzinām, Iepērkot Svētku Dāvanas?. Retrieved 24.10.2016 from http://www.delfi.lv/news/svetku-laiks/padomi/cik-kaloriju-sadedzinam-ieperkot-svetku-davanas.d?id=43871600

Clarke, P. (2006). Christmas Gift Giving Involvement. Journal of Consumer Marketing, 23(5).

Decembra Pasākumi un Notikumi Brīvdabas Muzejā. Retrieved 7.12.2013 from http://www.tvnet.lv/ziemassvetki/pasakumi/488713-decembra_pasakumi_un_notikumi_brivdabas_muzeja

Fairclough, N. (2010). Critical Discourse Analysis: The Critical Study of Language (2nd ed.). Oxon: Routledge.

Hirschman, E.C., LaBarbera, P. A. (1989). The Meaning of Christmas. In E.C. Hirschman (ed.), Interpretive Consumer Research. Provo: Association for Consumer Research.

Holt, D.B. (1995). How Consumers Consume: A Typology of Consumption Practices. Journal of Consumer Research22(1).

Iekārotākās Svētku Dāvanas Sogad — Tehnoloģiju Ierīces. Retrieved 13.12.2013 from http://www.tvnet.lv/tehnologijas/nozares_jaunumi/490112-iekarotakas_svetku_davanas_sogad_tehn

Kā Nenošaut Greizi ar Dāvanām Jeb Pēdējā Brīža Spikeris. Retrieved 24.12.2015 from http://www.tvnet.lv/egoiste/aktuali/589433-ka_nenosaut_greizi_ar_davanam_jeb_pedeja_briza_spikeris

Kasser, T., Sheldon, M.K. (2002). What Makes for a Merry Christmas? Journal of Happiness Studies 3 (4): 313–329.

Ko Ziemassvētkos Dāvināt Klientiem un Sadarbības Partneriem? Retrieved 14.1.2016 from http://www.delfi.lv/news/svetku-laiks/aktuali/ko-ziemassvetkos-davinat-klientiem-un-sadarbibas-partneriem.d?id=43977308

«Louis Vuitton» Gudrā Zoss Izvēlas Dāvanas. Retrieved 11.12.2013 from http://www.tvnet.lv/egoiste/stils/489749-louis_vuitton_gudra_zoss_izvelas_davanas

McCracken, G. (2005). Culture and Consumption II. Markets, Meaning, and Brand Management. Bloomington: Indiana University Press.

McCracken, G. (1988). Culture and Consumption. New Approaches to the Symbolic Character of Consumer Goods and Activities. Bloomington / Indianapolis: Indiana University Press.

Noklausies 'Es Skaistu Rozīt' Zinu' Oriģinālaranžējumu. Retrieved 14.1.2016 from http://www.delfi.lv/news/svetku-laiks/aktuali/noklausies-es-skaistu-rozit-zinu-originalaranzejumu.d?id=43889708

Pētījums: Grūtniecības Testi un Vilnas Zeķes jeb ko Labāk Nedāvināt Svētkos. Retrieved 21.10.2016 from http://www.delfi.lv/news/svetku-laiks/aktuali/petijums-grutniecibas-testi-un-vilnas-zekes-jeb-ko-labak-nedavinat-svetkos.d?id=43929972

Pleck, E. H. Celebrating the Family: Ethnicity, Consumer Culture, and Family Rituals. Cambridge: Harvard University Press.

Pulkstena G. Ziemassvētki pie «Dzeguzītes» Bērniem Iršos. Retrieved 24.12.2013 from http://www.tvnet.lv/zinas/latvija/491284-tvnet_ziemassvetki_pie_dzeguzites_berniem_irsos

Sassatelli, R. (2007). Consumer Culture. History, Theory and Politics. London: SAGE Publications.

Walsh, J. J. (2001). Were They Wise Men or Kings? The Book of Christmas Questions. Louisville: Westminster John Knox Press.

Photo by: Jānis Buls

Published by Marinho Media Analysis / November 28, 2016
http://www.marinho-mediaanalysis.org/2016/11/latvia-aspects-of-christmas-consumption_35.html