Carlota Magalhães*, Débora Gonçalves*, Manuel Oliveira*, Maria Gonçalves*, Maria Ribeiro*, Maria Gens*, Rita Caçote*, Sara Pardilhó*, Jorge Marinho**
*Student attending the Applied Languages / Major in Business Relations Study Program - University of Porto Faculty of Arts and Humanities (Portugal) / 2018-2019
**Research supervisor. Ph.D. in Communication Sciences, BA in International Journalism, Professor at the University of Porto (Portugal)
e-mail: marinho.mediaanalysis@gmail.com

Abstract
This project is based on research conducted with the aim of ascertaining the importance of internal and external Public Relations for the success of HUUB, a Portuguese startup, which was most notably present at the 2018 Web Summit. In the conclusions, the team of researchers also submits a few recommendations which, from their standpoint, could contribute toward improving the way HUUB works.

Keywords: HUUB; Portugal; Public Relations; startup; Web Summit.

Introduction
(This article is based on research work conducted as part of the curricular unit of Public Relations under the Applied Languages / Major in Business Relations Study Program - University of Porto / Portugal Faculty of Arts and Humanities / 2018-2019).

Given our methodology, this article starts off with an introduction of the company under analysis. Later on, we point out the importance of Public Relations (PR) in startups, including an interview with Professor Ana Patrícia Lima, an expert in the field. The topic is further developed with another exclusive interview with HUUB's head of PR.
This project also includes an original video with several HUUB employees taking part. Lastly, we will present our conclusions / recommendations regarding HUUB.
The case study and the statements provided by the interviewees contribute toward this project's originality.

Characterizing the company
HUUB is a Portuguese startup founded in 2015, in Porto (Portugal), by four young people based in the city of Maia (Portugal), as revealed to us by Guilherme Braz, PR head with said company («Exclusive Interview With Guilherme Braz» October 24, 2018). Although its first steps were taken in January 2015, it was in the following year that HUUB opened up to the market.
HUUB is in the market to streamline / boost business, namely, involving independent fashion brand names, providing all of its customers an integrated service combining three vital pillars: logistics, transportation and business management software. To such end, this company relies on the technological platform Spoke to manage the entire supply chain of its partners, brand names that operate in the fashion market on a global scale. This platform «supports and renders the entire operation visual in the customer's eyes, enabling the latter to focus on what truly matters: creating the best collections and selling them around the world.» (Huub).
According to Pedro Santos, one of the platform's founders, HUUB greatly values independent fashion brand names, «providing them with access to a highly optimized supply chain which they could not achieve on its own.» (Nunes December 11, 2017). Thus, Pedro Santos thinks that «distribution prices are more competitive, logistics becomes cheaper and better-quality service achieved. The brand manages to compete with the corporate giants.» (Nunes December 11, 2017).
Moreover, HUUB considers that «This is the global era, shaped by information, user experience, collaboration, and productivity. This new reality will place the HUUB at the center of a dynamic ecosystem: customers, end users, suppliers, alliance partners, the real end-to-end. All sharing the same goal: to grow the business. Everyone's business.» (About. Evolve Your Brand).
We point out that the startup under analysis, though somewhat related to the university context (Spin-off da U. Porto Recebe 2.5 Milhões de Euros), was created in accordance with what was reported by Guilherme Braz, that is, with no ties to an ecosystem such as the UPTEC or the University of Porto (UP), but, rather, through a financial investment made by the founders themselves and with financial aid from relatives («Exclusive Interview With Guilherme Braz» October 24, 2018). Initially, its operations took place inside a small office, as the team comprised 12 members («Exclusive Interview With Guilherme Braz» October 24, 2018). As its main focus, they began by seeking investment, by establishing a networking basis. After obtaining funding in the amount of 350 thousand euros in 2016, a new round of investment in 2019 enabled HUUB to raise 2.5 million euros (Spin-off da U. Porto Recebe 2.5 Milhões de Euros).
HUUB currently works with 50 brand names, mostly of international origin, as less than 10% correspond to Portuguese brands («Exclusive Interview With Guilherme Braz» October 24, 2018). The advantage of working with international brand names is that they enable scaled results. That is, increased production does not lead to a proportional increase in cost, allowing for a lower average cost while reducing costs and boosting profits. This reduction is normally associated with the introduction of more efficient production methods, the procurement of raw materials in larger scale or the lowering of shipping or financial costs due to greater volume of transactions.
Once investments were secured along with the possibility of enabling partners to compete with the «big boys», one of the company's new focal points became the brand's expansion, so that it increasingly approaches market leadership positions. This way, it seeks internationalization for the city of Barcelona, Spain, in 2019 («Exclusive Interview With Guilherme Braz» October 24, 2018). Furthermore, another of its focal points involved further raising public awareness to the brand, through stronger communication («Exclusive Interview With Guilherme Braz» October 24, 2018).
In 2018, during the Web Summit, RTP, a Portuguese television station, considered HUUB to be one of the startups with the greatest growth potential worldwide (Startup Portuguesa Considerada Uma das Mais Promissoras No Mundo November 8, 2018).
At this technological event, in Lisbon (Portugal), upon invitation from its organizers, Luís Roque, one of HUUB's founders, spoke on the main stage (Figure 1) before a live audience of audience of 15 thousand and another 19 million over the Internet (Huub Is Taking Over Web Summit 2018).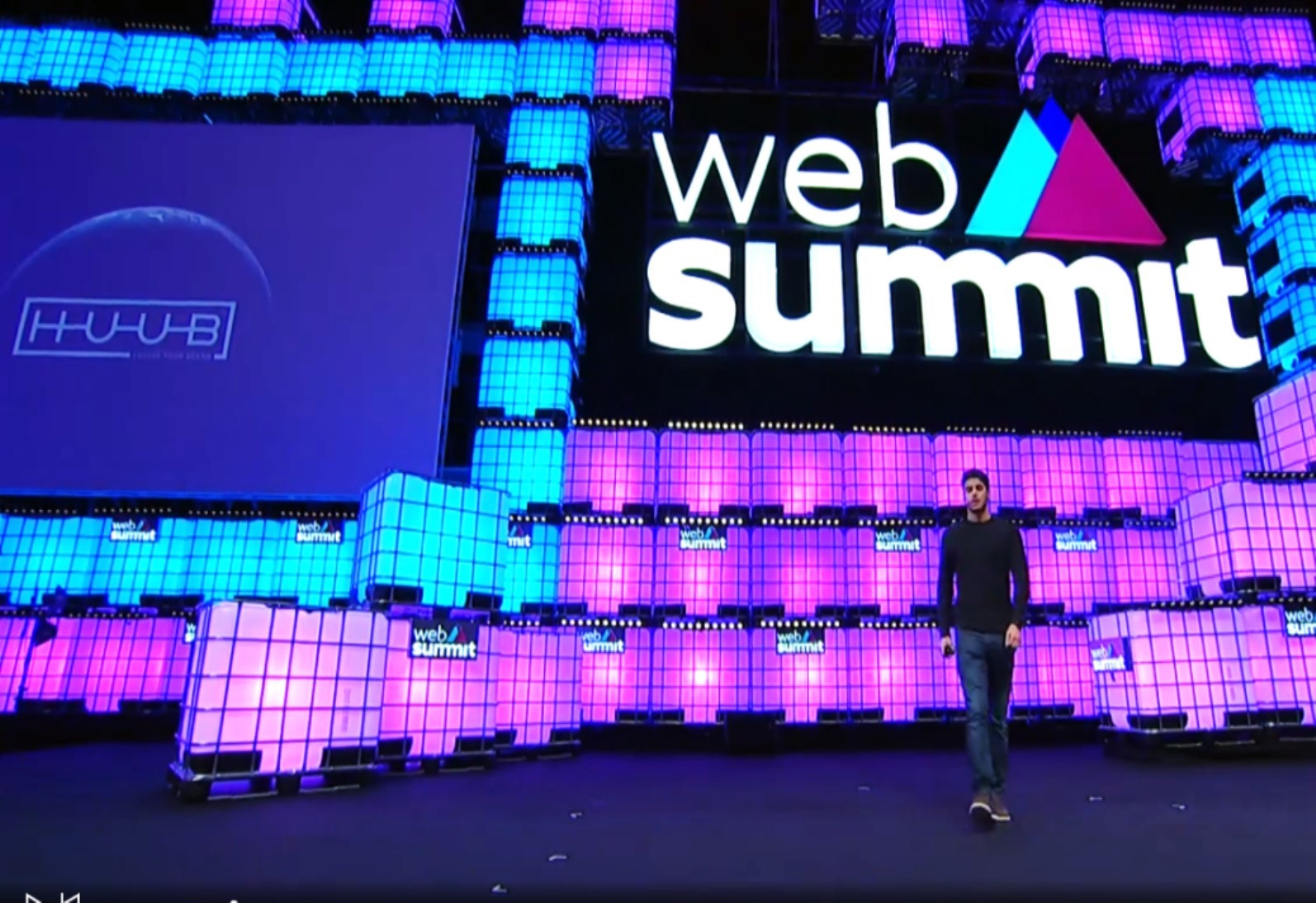 1. Luís Roque, HUUB co-founder, featured at the Web Summit.
(In https://www.linkedin.com/company/huub/ )
HUUB's values include humility, the startup concept, sustainability, flexibility, learning, a far-sighted attitude and an internal and external spirit of sharing («Exclusive Interview With Guilherme Braz» October 24, 2018).
Corporate social responsibility
With mounting pressure to be socially responsible, and within a context of a startup, it s important to have this vision right from the outset, by reformulating business strategies and models to keep abreast of the market, in order to foster value for the brand and to cause it to stand out.
More specifically within an inner dimension, there will have to be flexibility while achieving gender equality and equal opportunity, all of which comprise values that HUUB embraces. Though not legally established, its corporate culture allows employees to be absent if, for instance, they need to miss work because their children are ill («Exclusive Interview With Guilherme Braz» October 24, 2018).
Sustainable development is also a pivotal factor for a startup. In this respect, HUUB's behavior is eco-efficient, via, for example, the use of recyclable packages and funds set aside for environmental practices such as replanting trees («Exclusive Interview With Guilherme Braz» October 24, 2018).
Social responsibility is also linked to ethical responsibility. Aware of this dimension, HUUB seeks to collaborate with brands in respecting human rights, namely those brands that deal with fair production and providing good working conditions («Exclusive Interview With Guilherme Braz» October 24, 2018).
The role of PR
PR is indeed important for a startup, as we noticed in an e-mail interview with Professor Ana Patrícia Lima, Director of the Corporate Communication Study Program at the Porto Accounting and Business School / The Polytechnic Institute of Porto (Portugal) and PR expert:
Question (Q): What is the importance of PR in the process of creating, growing and consolidating a startup?
Answer (A:) / Ana Patrícia Lima (APL): It is a vital part in knowing how to deal with publics, stakeholders, relevant information for the media, press kits, and investor-garnering initiatives. Above all, it helps in the startup's communication, discourse and position in the market and in the corporate environment.
Q: How can a startup's PR professional help in its funding / obtaining investment?
A / APL: When constructing a positive opinion on the asset of the startup solution, generating goodwill capable of drawing the attention of investors and opinion leaders. Generating a positive image and credibility. Putting together relevant content in various media, showing skills in key areas as well as transparency.
Q: To what extent does a startup benefit from having PR experts on its team?
A / APL: It benefits from the vision and knowledge on the best means to reach certain publics, the ability to adapt language to various publics, the initiatives that lead to favorable news and the know-how to address situations in crisis environments.
Q: From what point is it justifiable for a startup to create a PR team?
A / APL: When going to market, it should have a team involved from the beginning of the startup, since it needs to be highly committed to its founders.
(«Exclusive Interview With Ana Patrícia Lima» November 22, 2018).
The importance of PR in consolidating HUUB as a successful startup and in continuous expansion is undeniable. In fact, HUUB's own founders and employees acknowledge that many of the investments managed to obtain, from its founding, in 2016, are due to excellent external communication: networking is regarded as a key activity for garnering new contacts and partnerships, hence the external image that is projected by the company's PR professionals has been a constant concern throughout the years of operation («Exclusive Interview With Guilherme Braz» October 24, 2018). Alongside this, internal communication is not neglected and is considered to be something pivotal for the company to work and grow properly («Exclusive Interview With Guilherme Braz» October 24, 2018).
To illustrate the essential role PR plays in HUUB, we can point out the fact that, just one year after its creation, its founders have deemed it pertinent to hire a PR manager, in order to optimize sales, external relations (in terms of partnerships and funding) as well as the process of recruiting and garnering new customers («Exclusive Interview With Guilherme Braz« October 24, 2018). In 2018, HUUB obtained two million euros in investments. This is due to the work undertaken by the PR professionals which, from the first moment, seek to convey the company's values and the mission in the most attractive and alluring manner for possible investors («Exclusive Interview With Guilherme Braz» October 24, 2018). Through various partnerships and the use of specialized communication channels, as is the case with online Portuguese newspapers Observador or Dinheiro Vivo, HUUB's PR practitioners have aimed to convey, not only to investors, but also to the general public, the startup's conquests and all of its growth potential («Exclusive Interview With Guilherme Braz» October 24, 2018).
What's more, online PR also plays a pivotal role in HUUB's growth and dissemination: it's through the corporate profile in the various social networks, especially via Linkedin, that it spends a large part of communication with the target audience. Within the current context, it's undeniable that digital PR is effective in disseminating and sharing the work achieved and in the internal and external promotion, on top of constituting a strong feature for customers and investors.
HUUB sees corporate communication as yet another project and establishes three aspects that should be worked on by this area: startup; fashion (partnerships with independent brands) and knowledge (it enhances learning, seeking to work knowledge as a whole, investing not only in internal communication and also in both technology and in the supply chain) («Exclusive Interview With Guilherme Braz» October 24, 2018).
In relation to external communication, originally at HUUB there was an effort to seek investment, which is what the press highlighted most. The area of communication was positioned to create a network of contacts and investment, striving to establish networking. Its effort yielded good results, as can be seen in various news items in the press, while stressing both its success in relations with the media and in achieved investments and acknowledgments. Dinheiro Vivo newspaper highlighted the 2.5million-euro investment achieved by this startup, while Jornal Económico newspaper recognized this Portuguese startup, as it surpassed the European funding average (Laranjeiro May 26, 2018 / Bexiga May 29, 2018).
Furthermore, HUUB acknowledges that it's necessary to invest in internal communication, as employees are the brand's ambassadors («Exclusive Interview With
Guilherme Braz» October 24, 2018). Thus, this company values coherence, seeking to line up behaviors according to what it intends to convey to its publics. To this end, HUUB essentially invests in:
-knowledge: in line with its value of learning, in a quest for everyone to acquire knowledge as well as continuous and consistent training;
-share days: in line with its value of sharing, it schedules days where various departments present what they have achieved along with the results obtained; at the end, employees take part in an event (for example, a sporting activity such as surfing) by creating conditions enabling every employee to be aware of what's happening within the organization («Exclusive Interview With Guilherme Braz» October 24, 2018).
The company under analysis does not invest in formal communication (for instance, it does not have a newsletter): it seeks to reaffirm the brand's philosophy, the values it wishes to convey (a youthful environment, in an open-concept spatial array, which enhances sharing and flexibility) («Exclusive Interview With Guilherme Braz» October 24, 2018).
Video containing employee statements regarding HUUB
For HUUB, creating a crisis plan is not a priority, as a crisis is a random occurrence and its specific aspects cannot be foreseen, as revealed to us by the PR head («Exclusive Interview With Guilherme Braz» October 24, 2018). This startup prefers to appropriately position itself in every context in order to meet every outlined objective, focusing on bringing it about, anticipating its results and allowing for minimal likelihood of any flaw («Exclusive Interview With Guilherme Braz» October 24, 2018).
With regard to crisis communication, as aforementioned, we believe that, despite already making proper use of PR, HUUB should create a crisis communication plan, so as to safeguard against any unforeseen event and so that, should anything unpleasant occur, it can better manage information and its own reputation.
For its part, and as concerns external PR, from our viewpoint, HUUB could further invest in the following areas: in press consultancy (disseminating projects in niche magazines and newspapers fashion- or economics-related, for instance); in taking part in fashion events held domestically, so as to garner contacts nationwide and expand its audience; in participating at conferences supporting startup development, namely, the Web Summit (where it was on hand in 2018); in partnerships with prestigious brands; in relational marketing, creating, for example, a database with contacts which can be sent information on new projects and on events where it will be present, among other aspects.
Thus being the case, the main thing is that HUUB should keep up the proper internal PR strategy and continue investing in external and international PR in order to better disseminate the brand name and garner even more investments, more partners and, certainly, greater profits.
Conclusion
When conducting this research work, we conclude that use of PR is vital, from the initial stage of any startup, to, among others, foster communication with stakeholders and its positioning in the market, aid in building its image within and without the company as well as its credibility, the latter being the keyword for success and trust in the company.
Likewise, integrating a PR expert in a startup, from its setup, constitutes an asset, since his/her knowledge (know-how, as mentioned by Professor Ana Patrícia Lima) and his/her perception of the market, of stakeholders and of resources for communicating the brand makes all the difference.
In the case of HUUB, even though the PR professional is not present from launch time (or even of the incubation period), it became part of the team from the very first year, which allowed enhancing several internal aspects, their results as well as external relations. This way, HUUB noticed that it was thanks to this hiring and its extraordinary external communication that it achieved even greater visibility, more contacts, partnerships and investments. It's also necessary to point out the significant role the digital PR has played and still plays, as its presence on social media enables greater and more effective feedback from its customers and partners.
Finally, when examining HUUB's application of PR, we conclude that, despite being very well used internally, on the external front there are a few aspects that need improvement, namely preparing a crisis plan. In our opinion, the startup will be able to optimize said aspects, in order to gain further exposure and to obtain even better results.
References
About. Evolve Your Brand. Retrieved 22.3.2019 from https://www.thehuub.co/about/
Bexiga, S. (May 29, 2018). Huub: A Startup Portuguesa que Bateu a Média Europeia de Financiamento. Retrieved 29.3.2019
from https://jornaleconomico.sapo.pt/noticias/huub-a-startup-portuguesa-que-bateu-a-mediaeuropeia-de-financiamento-313622
Huub. Retrieved 18.3.2019 from http://www.nos.pt/empresas/repositorioinformacao/criar-uma-empresa/casos-sucesso/Pages/HUUB.aspx
Huub Is Taking Over Web Summit 2018. Retrieved 25.3.2018 from
https://www.linkedin.com/feed/update/urn:li:activity:6463474268066844672
Laranjeiro, A. (May 26, 2018). Huub. Startup da Maia Angaria 2,5 Milhões de Euros de Investimento. Retrieved 29.3.2019 from
https://www.dinheirovivo.pt/fazedores/huubstartup-da-maia-angaria-25-milhoes-de-euros-de-investimento/
Nunes, D. (December 11, 2017). HUUB. Dar Poder Às Marcas Independentes Para Lutar Contra Gigantes. Retrieved 22.3.2019
from https://www.dinheirovivo.pt/fazedores/HUUB-dar-poder-as-marcas-independentes-paralutar-contra-gigantes/
Spin-off da U. Porto Recebe 2.5 Milhões de Euros. Retrieved 22.3.2019 from https://upin.up.pt/pt-pt/content/spin-da-uporto-recebe-2-milhoes-
Startup Portuguesa Considerada Uma das Mais Promissoras No Mundo (November 8, 2018) . Retrieved 22.03.2019 from
https://www.rtp.pt/noticias/pais/start-up-portuguesaconsiderada-uma-das-mais-promissoras-do-mundo_v1109769
Interviews
«Exclusive Interview With Ana Patrícia Lima» November 22, 2018
«Exclusive Interview With Guilherme Braz» October 24, 2018
Figures
1. Retrieved 9.10.2018 from https://www.linkedin.com/company/huub/
Published by Marinho Media Analysis / July 29, 2019
http://www.marinho-mediaanalysis.org/articles/Jul-29-2019/public-relations-and-startups-the-case-the-case-of-hubb-portugal